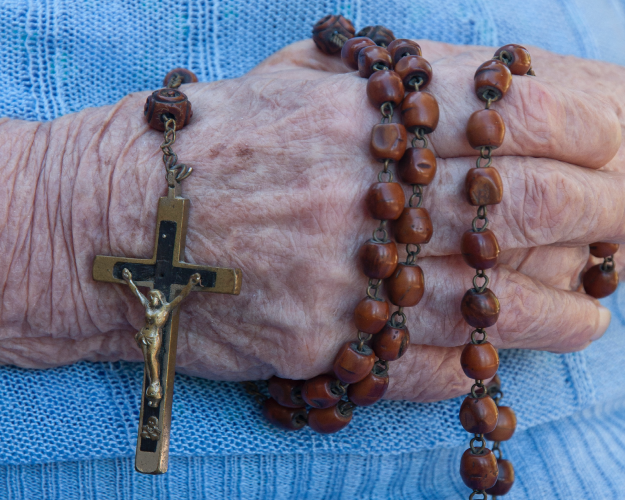 Darren Bonnici relates his memories of his grandma's faith and way of life. Grandma Carm – a commoner, a special woman, and a woman of faith.
7th August 2014. Today, at 1:45 pm, my grandma, passed away to eternal life.
When I was ten years old, I was at her home. She received a telephone call from Australia, informing her that her brother had passed away. She stopped what she was doing, looked up at the skies and asked her brother: "Who knows, how your conversation with Him, might go?
Today, minutes after she left us, I asked her the same question: "Nann, what are you talking to Him about? What is he telling you?
My grandma's faith was great. I am sure that He, keenly, told her to pass through Heaven's gates, because "whatever you did for one of the least of these brothers and sisters of mine, you did for me. And my grandma has done a lot!
I'd like to imagine, that waiting for her impatiently, at the gate, was my grandpa, Joseph. He had been waiting for her, for 34 long years! The following is the conversation that could have taken place as soon as they met again:
"Carm, I've been waiting eagerly for you! It took you so long to finally be here!
"Joseph, what is today?
"Thursday, the 7th of August 2014. St Gaetano's feast day.

"Do you remember THAT feast?
"How can I forget? (He hugged her dearly) It was the first time I saw you! (And she kissed him)
"Now, we're together, forever!
I cried because I will truly miss her. I've got so many sweet memories of her!
At 2 years old, my mum and dad went abroad. I had to stay with her for a couple of days. Since I was very young and missed my parents a lot, she used to put me on the window sill to watch airplanes pass by. With every plane, that flew over, she smiled at me and told me that mum and dad would soon come back with that plane.
I used to go with her to the St' Francis' Friars Convent in my hometown, while she cooked there.
During Summer, every Monday, my mum used to go and help her with house chores. My brother and I, usually accompanied her. I remember the sun rays entering through the kitchen window and the carton of flavoured milk which she used to buy for us.
I will never forget, the smell of her clothes, the smell of her bedroom and the smell of her kitchen.
During my exams, she would be so worried. I used to call her after every exam to let her know, how I did. With every call, she used to reassure me that she prayed continuously for me during the exam.
She would ask me to go to the grocer and buy a carton of milk with an Lm10 (Maltese Lira) note; although the milk would have cost only some cents. As soon as I arrived back with the milk, she would remember that she needed something else, resulting in going back to the store. Sometimes even for a third time!
My family and I used to go out every Sunday afternoon. Grandma usually accompanied us. While driving back home, we used to recite the rosary.
Once, while studying, at her house, I got fed up. She saw me frustrated and scolded me for not trying harder. I didn't like it and got angry at her. Today, I still feel sorry for getting angry.
I remember the candid telephone call on April fool. I posed as a radio presenter, asking her to recite the rosary with me. She told me that she wasn't strong enough to recite the rosary on the telephone. Having said that, she asked my mother and aunt, (who were visiting her), to take the telephone call themselves. From my end, my father, brother and I, started laughing and I got caught.
The way she used to show me that she didn't like it whenever all the family met at an event and I took a long time to talk to her.
Her telling of the time. She used to anticipate the actual time by half an hour. If it was 9am, she used to tell us that it was 930am.
Whenever I visited her and found her reciting the rosary following the radio. She used to talk to me only after the rosary was finished. I used to recite the rest of the rosary with her.
She used to feel very special, whenever I met her at church and instead of joining my friends; I used to sit next to her. As soon as mass finished, I used to walk her home.
The prayers to St Joseph and Crucified Jesus, before she went to bed.
Whenever there was a blackout, my father had to reset her radio stations, especially Radio Maria.
Whenever she ran out of gas, she used to call someone to change it for her.
The day she started learning to read and write.
The way she used to talk about grandpa. I wasn't born yet when he died, but through her, I felt that I got to know him well.
All the Christmases, which we spent at her house, with all the cousins, aunts and uncles.
She could not understand my passion for my hometown – Birkirkara and my hometown's patron saint, Saint Helen.
All the advice she gave me, although she was no scholar.
She used to get really worried when anyone of her children went abroad.
Whenever she received the electricity bill, she complained that it was too expensive.
She never forgot birthdays. Be it her children's or nieces' or nephews'. She used to call me to write her a birthday card and as always, telling me: "Write a beautiful message and tell them that I love them a lot!
Sometimes she had to kindly caution me when I argued with my parents and my brother.
Every birthday card she had sent me.
Her reaction when I tried to explain the Theory of Evolution in relation to the story of Adam and Eve in Genesis.
When I dressed up as Father Christmas and visited her some days before Christmas. She recognized me instantly.
My wedding!
Grandma's Faith!
Nann, I miss you dearly. Please pray for us as you always did!
Read more:
– Top Pope Francis' Quote on the Elderly
– What Is the Good News of the Catholic Faith?