What Makes a Catholic Church a True Basilica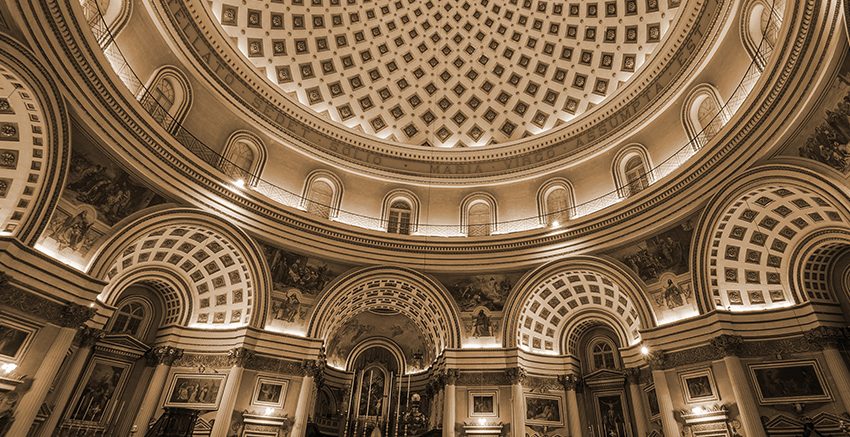 A basilica is an architectural term for a certain style of building. The term basilica comes from a Greek word meaning regal or kingly. Over the centuries the Catholic Church has used basilica in this sense, with the pope granting the title Minor Basilica to a church that has unusual historical significance, or is especially sacred because of the presence of a relic/s. In this article, Dr Ramon Bonett Sladden speaks of the new rivalry emerging between different parishes in Malta about Churches being granted special titles like 'basilica' or 'collegiate' and reflects on the importance of looking at ourselves as a 'temple' before proceeding to have more basilicas.
Here are two taunts from a song sung by fanatics of St Sebastian Qormi parish to the fanatics of St George Qormi parish:
Eċċezzjonali, sirna arċipretali ;
(We are exceptional, we've become a church with an archpriest)
and
"Bażilika, bażilika, bażilika, dan it-titlu żgur ma teħduh qatt.
(You will never become a basilica)
I very much doubt that St George and St Sebastian are impressed by these antics.
Rivalry makes us infantile
In contrast, here is what Paul writes in the First Letter to the Corinthians (1Cor. 3:1-9):
"Brothers, I could not talk to you as spiritual people, but as fleshly people, as infants in Christ. I fed you milk, not solid food, because you were unable to take it. Indeed, you are still not able, even now, for you are still of the flesh. While there is jealousy and rivalry among you, are you not of the flesh, and behaving in an ordinary human way? Whenever someone says, "I belong to Paul," and another, "I belong to Apollos," are you not merely human? What is Apollos, after all, and what is Paul? Ministers through whom you became believers, just as the Lord assigned each one. I planted, Apollos watered, but God caused the growth. Therefore, neither the one who plants nor the one who waters is anything, but only God, who causes the growth. The one who plants and the one who waters are equal, and each will receive wages in proportion to his labour. For we are God's co-workers; you are God's field, God's building.
Simply put, it can be said that insofar as the bestowment of new titles leads the parish and the parishioners closer to God, it is good. However, if the new titles lead to rivalries and infighting, they are not so good.
Granting too many titles would render these titles meaningless
From a purely practical point of view, if we continue to grant new titles to churches at around the present rate, we will soon end up with a country full of collegiate churches and basilicas. This would render those distinctions meaningless.
Lest I be misinterpreted, I would like to put on record that I am a history enthusiast and stand in awe of the fact that most of our churches are artistic and architectural masterpieces. Various towns and villages boast churches with impressive artwork and architectural features which make them not only magnificent houses of God, but also invaluable cultural and architectural heritage worthy of protection by the state.
Some people seems to care more about titles than works of mercy
However, I cannot help thinking that when we die, God will not ask us how many churches we helped elevate to the rank of minor basilica. He is more likely to ask us how many of the works of mercy we carried out, whether we availed ourselves frequently of the sacrament of Reconciliation and whether we received the Eucharist worthily.
I cannot but express bewilderment at the sheer amount of people who seem to care nothing for the teachings of the Catholic Church but seem to care very deeply about their parish becoming a collegiate church or a basilica or about having an archpriest instead of a parish priest.
Some days ago, the Gospel reading of the day (Luke 10:38-42) instructed us in choosing our priorities properly:
As they continued their journey he entered a village where a woman whose name was Martha welcomed him. She had a sister named Mary (who) sat beside the Lord at his feet listening to him speak. Martha, burdened with much serving, came to him and said, "Lord, do you not care that my sister has left me by myself to do the serving? Tell her to help me." The Lord said to her in reply, "Martha, Martha, you are anxious and worried about many things. There is need of only one thing. Mary has chosen the better part and it will not be taken from her."
For the Christian, titles should not be a priority
I am, of course, aware that the Church in Malta is more present in public than ever before. Through the archbishop and through its many arms, the Church is putting the Gospel into practice. However, although the structure of the Church is wonderfully active in recognising each and every human being as being created in the image of God, many of its component members, myself included, routinely fail to live up to our baptismal promises and the promises made during the sacrament of Confirmation.
One such failure is when ordinary, baptised Catholics seem to prioritise having a basilica or a collegiate church for a parish church. Although such titles are not bad things in themselves, they are not the Christian's priority. The Christian's priority is to love God and to love others, each through his own calling.
Let's treat ourselves and each other as temples of the Holy Spirit
Let us all first get the basics of Christian life right. Let us become familiar with the Bible. Let us know the teachings of the Church. Let us attend Mass daily, especially as we have the immense luxury of four, five or six daily Masses in each parish church and in several chapels. Let us pester our priests to be more available for Confession. Let us get involved in parish ministries. Let us put ourselves at the parish priest's disposition in lending a helping hand. Let us truly imitate the saintliness of the town's patron saint. Above all, let us do all this under the guidance of the Holy Spirit and hand-in-hand with Our Lady.
When we do all this, we start to respect ourselves in our truest calling , that of being a temple of the Holy Spirit. When we treat ourselves and each other as temples of the Holy Spirit, then we can perhaps proceed to have more basilicas and collegiate churches.
Read more:
– Pope Benedict The 16th On the Future Of The Church
– Top Pope Francis' Quotes About the Church