Catholic Prayers for Strength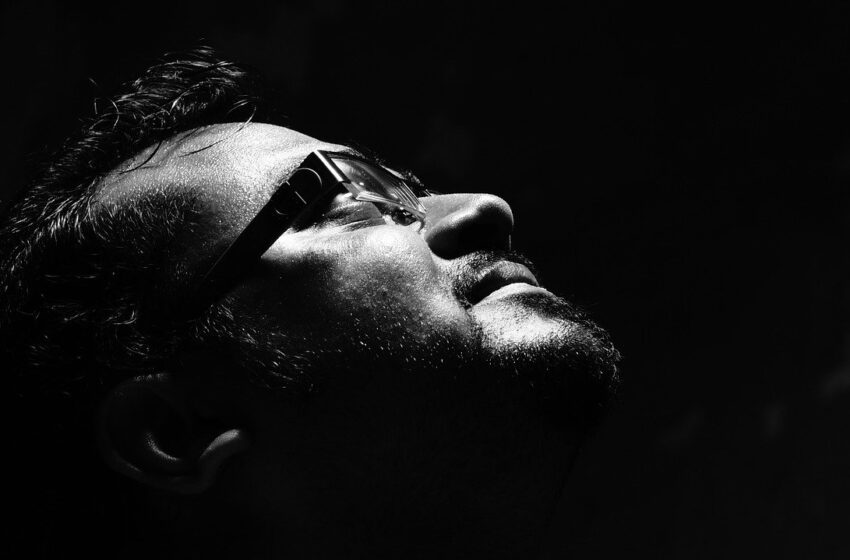 The prayers below are Catholic prayers for strength, hope and comfort.
The full-text of the prayer can be found under the image of the prayer.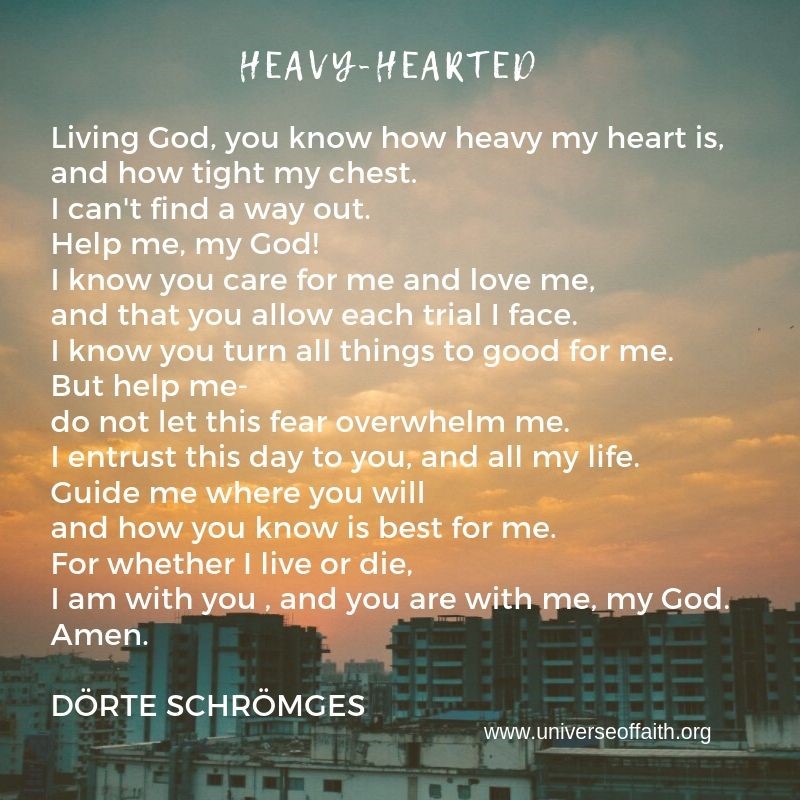 1. 
Prayer for strength – 
Heavy Hearted
Living God, you know how heavy my heart is,
and how tight my chest.
I can't find a way out.
Help me, my God!
I know you care for me and love me,
and that you allow each trial I face.
I know you turn all things to good for me.
But help me –
do not let this fear overwhelm me.
I entrust this day to you,
and all my life.
Guide me where you will
and how you know is best for me.
For whether I live or die,
I am with you, and you are with me, my God. Amen.
DÖRTE SCHRÖMGES from the youth prayer book YOUCAT

2. In times of trail – Strengthen Hope In Us
We beg you, God of grace and eternal life,
increase and strengthen hope in us.
Grant us this virtue of the strong,
this strength of the confident,
this courage of the unshakable.
Then we can boldly grasp, again and again,
the challenges in our lives.
Then we will be filled with cheerful confidence
that we do not work in vain.
Then we can do our work and know that you
– without us and where our strength may fail-
still work your glory and our salvation,
according to your purpose.
Strengthen in us your hope. Amen.
KARL RAHNER from the youth prayer book YOUCAT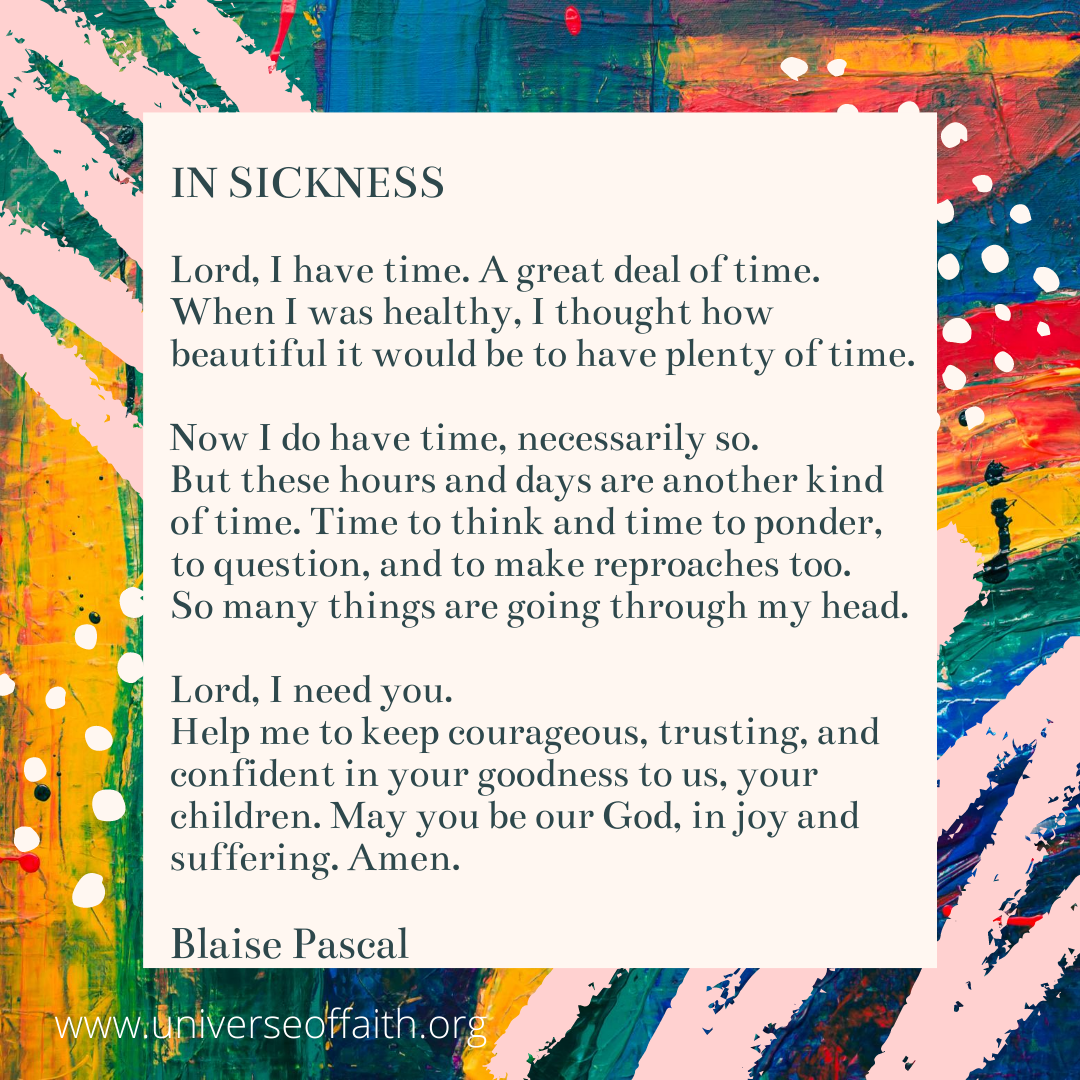 3. In Sickness – Prayer For Strength
Lord, I have time. A great deal of time.
When I was healthy, I thought how beautiful it would be to have plenty of time.
Now I do have time, necessarily so.
But these hours and days are another kind of time. Time to think and time to ponder,
to question, and to make reproaches too.
So many things are going through my head.
Lord, I need you.
Help me to keep courageous, trusting, and confident in your goodness to us, your children.
May you be our God, in joy and suffering. Amen.
BLAISE PASCAL from the youth prayer book YOUCAT 

4. During long hardships – Patient Trust
Above all, trust in the slow work of God.
We are quite naturally impatient in everything to reach the end without delay.
We should like to skip the intermediate stages.
We are impatient of being on the way to something unknown, something new.
And yet it is the law of all progress
that it is made by passing through some stages of instability—
and that it may take a very long time.
And so I think it is with you;
your ideas mature gradually—let them grow,
let them shape themselves, without undue haste.
Don't try to force them on,
as though you could be today what time
(that is to say, grace and circumstances acting on your own good will)
will make of you tomorrow.
Only God could say what this new spirit
gradually forming within you will be.
Give Our Lord the benefit of believing
that his hand is leading you,
and accept the anxiety of feeling yourself
in suspense and incomplete.
PIERRE THIELHARD DE CHARDIN SJ from the Jesuit prayer book Hearts on Fire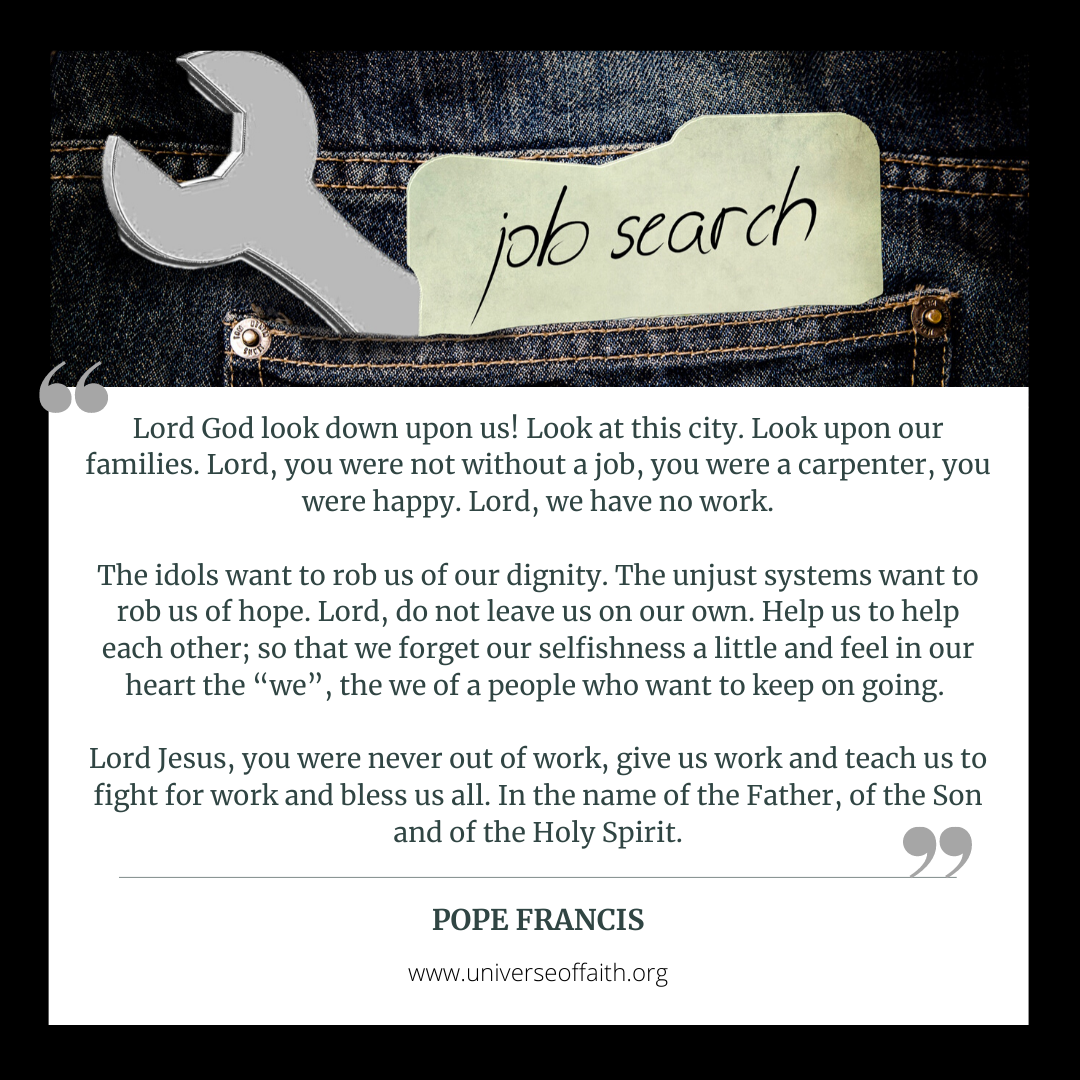 6. Prayer for unemployment – Lord, We Have No Work!
"Lord God look down upon us! Look at this city, this island. Look upon our families.
Lord, you were not without a job, you were a carpenter, you were happy.
Lord, we have no work.
The idols want to rob us of our dignity. The unjust systems want to rob us of hope.
Lord, do not leave us on our own. Help us to help each other; so that we forget our selfishness a little and feel in our heart the "we", the we of a people who want to keep on going.
Lord Jesus, you were never out of work, give us work and teach us to fight for work and bless us all. In the name of the Father, of the Son and of the Holy Spirit".
POPE FRANCIS, Meeting with workers – Cagliari, 2013

6. Prayer for faith in hard times 
"Dear God, deliver me from the chosen darkness I have surrounded myself with.
Help me to walk the way of faith,
so that I might grow in true love and be lead by the light of faith.
Amen."
ELEANOR GRECH
Catholic prayers for strength
Read more:
– Top Pope's Quotes About Suffering
– My Psychosis Recovery: Love, Medicine And Faith