Bloom Where You Are Planted! The Experience of growing in a Community of Faith – Marylene Savona Ventura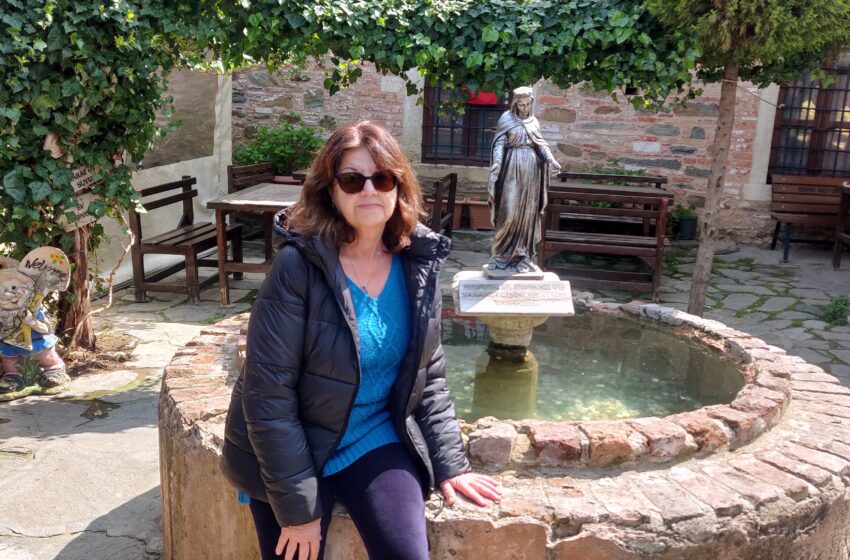 In this article, Marylene Savona-Ventura explores her journey of Faith – particularly her journey as a member of 'Christ our Neighbour Group'. Amongst other things, she speaks about the importance of youths as being 'revolutionary', about the role of women in the Church, and also about the fundamental need for 'searching' in human life.
Initially you were all searching – how has forming part of "Christ Our Neighbour Group" helped you with 'sifting your faith'?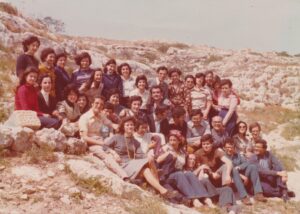 Marylene: The initial group originated from a group of sixth formers, mainly in our late teens and early twenties, it was a phase in our development where existential questions came to the fore.  The teachings instilled in us by our parents came under scrutiny. It is typical at that age to stir away from the past, which tended to seem obsolete or irrelevant. Most of us had the background of the Legion of Mary and good parental grounding. If our ideas differed from that of our family, we would not dare to question it, but we kept it to ourselves. However, the apple does not fall too far from the tree and the group helped us build on what was already there but with a different perspective and outlook.
It was also helpful to realize that our thoughts and ideas were shared by others. The group helped us discuss issues common to all. 'Sifting the faith' is a continuous process. A lifelong one that changes or rather is modified as we mature and undergo life's undulating cycles. Our contacts with the elderly, children in institutes and people with a disability helped, provided exposure to the needs and painful expectations of society, and helped fulfil our ethos stating that we should be hands-on.
In the group-prayer written by Fr Joe Busuttil (i.e., the group's first spiritual director), the word "sejħa" (i.e., call) is mentioned. How important is it for us to first discern where God is calling us "to be", rather than merely experimenting without being open to His guidance?
Marylene: The quest to find out more intensive and introspective questions as to our reason for being and our place in this world leads one to question living according to the 'will of God'. If one does not comply with the will of God, one is not living life to its fulfilment. Discernment could be confusing to an inquiring mind and leads to disquieting thoughts, especially for someone like me who always feels that the grass is greener on the other side of the field, especially when one is still finding one's place in the world vis a vis work, status vocation, etc.

My acceptance to join the group was not only a call but the need to search for something which was so much bigger than oneself. Retreats, prayer meetings, and discussions guided by the help of Fr. Joe helped in paving the way for discernment. As time went by and maturity set in, you realise that it would be easier to abandon yourself to the will of God by actually giving up your quest and accepting life as it is. A poster hanging in one of the prayer rooms at the Little Flower (nuns) stated: 'BLOOM WHERE YOU ARE PLANTED'. This surrender provided the backdrop to listen to 'God's voice and be aware of the nudges and inner voices.
In our conversation, you outlined the "revolutionary" approach that you initially had in your earlier years: in what ways, do you think, can youths (in general) and those within the Church be revolutionary today?
Marylene: I distinctly remember having the urge to change things in our society. I might not term them as 'revolutionary' but it was an attempt, such as going on the beaches with placards protesting against topless bathing. Our interactions with social groups as mentioned above, and the activities we organized were in themselves an attempt to change the world and the perspective of society towards them. Apart from that it provided cohesion for the group.
Today's youths have ample opportunities to make themselves heard – starting from our environment to the corruption of society. Youths being able to vote from the age of 16 provides a substantial cohort when elections occur. Who wants to face corruption in society, injustices, and the destruction of our limited green space? At our age, we do not aspire much, but young people and children deserve to live in peace, tranquillity, and an environment that promotes good mental health. You have much to fight about. Your livelihood and well-being are at stake! You can still make it!

During the last two years, I had many opportunities to hear mass in various parishes in Gozo. Mass there had a certain amount of enthusiasm, modern choirs, and the churches were full. It set me thinking.   There was such a stark difference between Churches in Gozo and the majority of Maltese parishes (obviously not all).
While the output from the priest celebrating mass was important and clearly there was a creative element at play, the attitude of the laity was that of enthusiasm. And it was like a light bulb suddenly lighting up. We expect our priests to be creative, do things differently. The ritual of the mass is what it is and can hardly be changed. I often try to put myself in the shoes of the priest celebrating mass facing a handful of lethargic people. The situation is pathetic. I feel that a priest can only work according to the energy generated by an interested and cooperating congregation. Young people today have so many activities to kindle their enthusiasm and expose them to the needs of an ailing world. I envy World Youth Day. What enthusiasm! What an experience!
One activity I clearly remember was the feast of Kristu Re where all religious groups including CONG gathered in Floriana at the foot of the Statue of Christ the King with banners and marched down Kings Way to congregate in front of St. John's Cathedral.   That event was not simply to acknowledge Christ as King but to unite religious groups with a common goal. It felt good!
Women in the Church.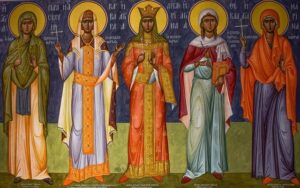 Marylene: Women's voices have also been silenced from time immemorial in spite of the fact that in the gospels Mary Magdalenand Mother Mary were given priority, dignity, and importance. It's a miracle in itself that we have amazing women who, because they heard the voice of God, risked everything and followed their calling. These brave women, saints, and mystics gave up everything to evangelize and make themselves heard in spite of the prevailing culture in a male-dominated world.
Personally, I feel that the Pope's suggestion to promote women deacons and try to include them within the church is a first step to include more women and have their perspectives noted. But I sincerely hope that it does not stop there. I firmly believe that women have much to contribute and should have a more active role in the running of a parish.
"Vocation is not limited simply to clergy within the Catholic Church but includes every individual. We all have a calling in some way or form to be God's hands on this earth. Each on his own way to minister to God's people."
The group always made it our priority by joining Dar tal-Providenza and the elderly at Little Sisters of the Poor and the Orphans in Żabbar and share in their lives. Hence the name (i.e., Christ Our Neighbour Group).
In light of Fr Joe Inguanez recent passing, the group extends their condolences and prayers to him and all his loved ones. Fr Inguanez was CONG's chaplain for a number of years.
Read More:
"I Was Raised on the Farm" – 11 Life Lessons From the Field