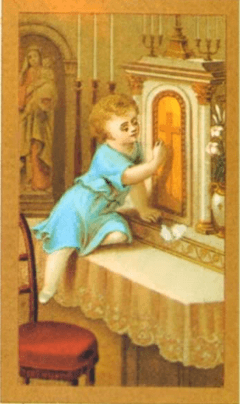 When I was a very young girl, someone gave me a Holy Picture of a girl, sitting on the altar, and knocking on the Tabernacle saying, "Jesus, are you there?"
This picture penetrated my heart and left a lasting impression.
Yes, Jesus is indeed there, present under the species of a tiny host in all the tabernacles in the world.
In my opinion, this is the greatest test of our faith. How can God Himself be present in the Holy Eucharist? How can God submit Himself to this humiliation and wait for us in a box to give Him homage?
However, that is how it is. "I will be with you all days," Jesus said.
Nancy Coleiro